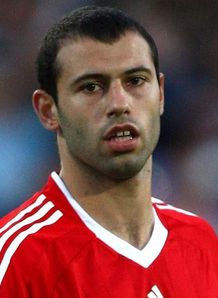 An interview given by Javier
Mascherano
to Spanish magazine
Don

Balón
has been quoted by the British press as proof that the player wants to leave Liverpool. Speaking of being linked to Barcelona and Real Madrid the Argentinean Midfielder said:

"It's really flattering. For me it means great recognition because we are talking about big clubs."
This is the headline that a majority of the papers are running, however most of the interview has not been published by the English tabloid press intent on creating an image of unrest. The player goes on to say "it's always good to know that teams like
Barça
and Madrid are interested in you". However the player revealed his happiness in playing for the Reds by stating: "I feel comfortable at Liverpool."
Mascherano
also gave praise to his Liverpool coach, Rafael
Benítez
: "[He is] excellent. He's a perfectionist, working down to the smallest detail that you can imagine. Fortunately he has renewed his contract, meaning his ties to the club continue and this will give more calm to everybody."
Mascherano
also speaks of the Reds victory over Real Madrid by saying the Spanish club is in "upheaval" and "the organizational capacity of the British" ensures the Dominance of English clubs in the Champions League. He goes on to say "I also believe that the pace of the Premier is superior to the (Spanish) League."
Mascherano
also heaps praise on Liverpool's "devastating" attacking ability. When asked if Torres is among the best forwards in the world, the midfielder says: "It is very fair. Fernando is a great striker and defenses almost cannot win against him."
Maschrano
also talks of his partnership with
Xabi
Alonso proclaiming the "understanding" between the two players has almost reached "perfection".
Hardly an image of unrest.
However the view that
Mascherano
being fed-up at Liverpool is being perpetuated on a daily basis. David
Maddock
reporting in
today's
Mirror
says "the root of the Argentine's unhappiness at
Anfield
is the fact that he is paid considerably less than the majority of his team – mates," and the new arrival of Glen Johnson may also be a contributing factor by proclaiming the defender is on a "massive deal – which will earn the England full-back around £4m a year" and it "could force Liverpool to TREBLE Javier
Mascherano
's wages to keep him." The story says
Mascherano
"is only on around £25,000 a week - a fraction of the cash Liverpool's top stars Steven Gerrard and Fernando Torres command."
Johnson according to the journalist will be on £4m a year, which approximately works out at £77,000 per week. But
Maddock
's numbers for
Mascherano
do not add up. The Argentinean, who last February signed a four year deal with Liverpool for approximately £18m, according to
Maddock
is on "around £25,000 a week." However a quick calculation reveals
Mascherano
will be on approximately £86,500 a week.
Maddock
has displayed time and again that his writing ability is not much
kop
, now he reveals his maths are worse. I'm glad he
didn
't choose to be a nuclear physicist.