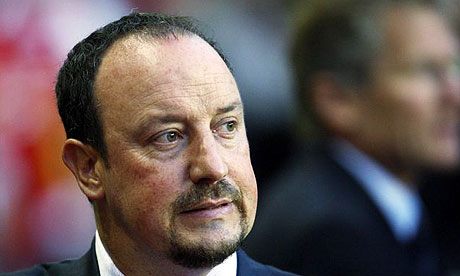 Rafa Benitez may have to overcome huge obstacles in the transfer market this summer. But with deals being struck all over Europe and players high on Rafa's transfer list finding contracts elsewhere, notably Gareth Barry, how will Benitez compete? The club has also have to endure constant speculation over Xabi Alonso and Javier Mascherano, with Real Madrid and Manchester City lining up just about every player they please and at least according to the press, Liverpool appears to be on the verge of collapsing in on itself.
Previous problems with transfers have always fallen at the feet of Rick Parry, however with Parry leaving the club and no replacement yet in place, who is turning Rafa's targets into signings? An article in today's
Telegraph
speculates "Ian Ayre, the effective commercial director, is favourite to take over, but no appointment has been made." Another problem is clearly the financial restrictions that Rafa has to operate in. This situation has not been helped by the publication of the clubs accounts on Thursday, which effectively question the viability of Liverpool Football Club as a business. The Telegraph claims the Reds "according to one source, could be losing as much as £1 million per month." This means the clubs owners Tom Hicks and George Gillett will need to plough more money into the club, which the article suggests, is unlikely to happen until the re-financing deal takes place on July 24.
All of this will obviously have a knock on effect on Rafa's spending power in the transfer market this summer. "The club will be pulling money in through season ticket sales but, according to one source, he has a budget of between £10-15 million – not enough to buy you one top class player, let alone three," states the article. Obviously Benitez will have to sell players this summer. The welcome news that Andrea Dossena handed in a transfer request will clearly bolster any spending budget Rafa has? Other players like Veronin are also surplus to requirements, but how much money would any club realistically pay for these two average talents? The one player that may bring in any credible amount of money is Ryan Babel, with up to £8m being speculated in the press. But that still does not give Rafa a substantial enough budget to compete in the same arenas as City or Real, who appear to have bottomless pits of cash to indulge in.
David Silva is now Rafa's top target and the Telegraph says: "while ostensibly on holiday, Benitez met the player last week." But will Liverpool be able to offer the same financial incentive to cash strapped Valencia as Real Madrid, who reportedly have a £200m budget? The article claims Rafa's "otherwise, reported targets are more modest: Sylvain Distin of Portsmouth as defensive cover, Brazilian striker Kleber from Cruzeiro and Tuncay Sanli of Middlesbrough to add depth to the club's attacking options." It also goes on to suggest: "Competing for the very top players, as Chelsea, Manchester United and City are, is simply not feasible."
Other methods may have to be employed to lure players to the club: "The most obvious pull is the club's rich tradition," says the article. It also suggests: "playing with Steven Gerrard and Fernando Torres must be a draw. Benitez has exploited his connections in Spain in the past, too, to help facilitate deals. But Liverpool can't trade on these ineffable qualities forever."
With the team and Rafa's great work on the pitch consistently being undermined by financial wrangles and in house fighting behind the scenes, will Liverpool be able to build on the great strides they made in the Premiership next season?