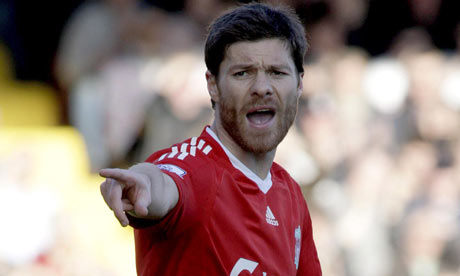 Xabi Alonso has warned that impending tax laws may discourage foreign players from joining the Premiership and also see a mass exodus of Premier League stars to Europe. He joins Reds team mate Alvaro Arbeloa who verbalised the same fears earlier in the week.
Reported in the
Telegraph,
Alonso said: "Of course we footballers think about it; we are not stupid, we keep an eye on it," Alonso said. "When you see your contract down by 30 per cent you cannot be happy. I cannot do anything – it must be Gordon Brown or David Cameron. I think the weakness of the sterling is not helping the Premiership because for those competing and fighting against the European teams it is a big weak point. Hopefully over the next few months and years it will get back to what it was not so long ago."
Fernando Torres speaking about potentially loosing team mates said "I worry about losing my team-mates, of course," Torres said. "But when you play for a team like Liverpool you don't have to worry about that. You are a top player and you will get a good contract. You don't have to be scared to lose a little bit of money."
The article says: "Alonso signed a five-year contract with Liverpool in 2007 worth an estimated £65,000 a week. At the time there were €1.48 to the pound so he was on €96,200 per week but due to the weakness of the pound that has fallen to €76,700 a week. When the 50p tax rate comes in next April that will drop to €69,000 a week, so he could be losing €27,200 every week compared to what he was earning back in 2007. Overall, Alonso fears he could end up losing nearly £1.2 million per year."
Accountants working with footballers and clubs will have to become more creative so players can avoid paying the top tax rate. The article says: "one option being explored is paying players in interest-free loans which would attract a much lower tax rate. But ultimately, it seems the power base has shifted to the Continent." Agent Sam Rush, whose clients include Michael Owen and Steven Gerrard, "believes English clubs will have to bear the brunt of the cost as foreign players will increasingly demand to have contracts net of tax." Says the report.
Clubs in Spain set up foreign players as 'company executives' with a preferential 23 per cent tax rate for the first six years. David Beckham was on this kind of deal and Cristiano Ronaldo and Kaka will be on a similar system when they arrive at the Bernabeu. The article claims this will obviously give "clubs like Real Madrid and Barcelona a real competitive advantage in the market."