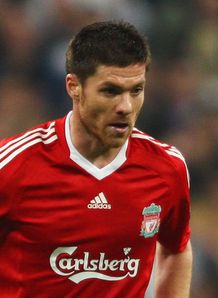 Real Madrid president Florentino Perez has stated that fees some clubs are asking for Spanish players "don't correspond to reality," in a thinly veiled swipe at Liverpool football club and their summer long attempt to unsettle Xabi Alonso. Despite Madrid's astronomical deals worth £170m for just three players, Perez claims their extravagant spending spree has "confused some people." Speaking yesterday, he said:
"We made huge attempts at the start to sign players who had won the Balon d'Or or the World Footballer of the Year award," said Perez. "But the arrivals of Kaka and Cristiano Ronaldo have confused some people who obviously thought that, because we said we wanted more Spanish players, they could ask for fees which don't correspond to reality," reports the
Telegraph
.
"A year ago, certain players we have asked about would have cost less than half the price we are being quoted now. There is nothing that justifies these prices. If necessary, we will find the Spanish players we would like for the squad in our youth system."
Despite two months of the Bernabéu clubs president, manager and players publically shooting their mouths off about the Liverpool player, Real Madrid have amazingly still not made a formal offer for Alonso. However press speculation declares they have informed Liverpool that they are unwilling to pay any more than £24 million for the Spanish play maker.
The Liverpool squad upon finishing their tour of the Far East has been given three days off and sections of the press have claimed this as some sort deadline for the deadlock to be resolved. Alonso is due back in Liverpool on Thursday, so it appears the clock is ticking. With Benitez refusing to lower the asking price for Alonso, which press speculates between £30-£35 million and the player himself refusing to prompt the move with a public transfer request, the deal appears to be at a standstill.