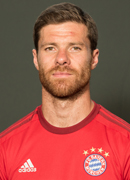 Xabi
Alonso's future has been clouded by speculation all summer and the player himself has been unwilling to stop any rumours with a series of
un
-committal answers. Appearing at an Adidas promotion in the
CentralWorld
shopping complex in Bangkok, Alonso greeted the crowd with "
SAWATDEE
THAILAND," a term which
ironically
means 'hello', as well as 'goodbye'. Thousands of fans waited to greet the Liverpool midfielder who was also joined by team-mates Albert
Riera
, Jay Spearing and David
Ngog
, but there was no doubt about who they fans had come to see as deafening chants "
Xabi
" filled the shopping complex.
Inevitably the first question was regarding his future and came from the Thai master of ceremonies.
"
Xabi
everyone loves you so much, would you please stay?"
"Alonso shuffled nervously and his reply was hardly reassuring," claims the
Echo
.
"It is difficult to give any guarantees," he said.
"For now I am just enjoying myself in Thailand and it is great to see so much support," offered Alonso, hardly nullifying the speculation.
The MC then told Alonso he was "the most influential midfielder in the whole of Liverpool."
"But still there was no cast iron guarantees about his future," says the story.
"Alonso
wouldn
't elaborate further on the ongoing summer transfer saga but there appears to be little doubt that he has his heart set on a move to Madrid," states the article.
Real Madrid manager Manuel
Pellegrini
has again spoken about Alonso, speaking to
Sky Sports
following Madrid's win over Shamrock Rovers on Monday, he said
"All we know is that he is a very good player. We don't know what is happening with him."
"He is now a player with Liverpool, so we will see what will happen in the future."
Clearly not realising that he had already shot his mouth off about the Liverpool midfielder, he added:
"He is a very good player. But I cannot speak about players who are not at Real Madrid now."
Hot on heals of his quotes, comes the story from one British tabloid that claims Chelsea and Manchester City are both attempting to "hijack" any deal with Real. Both clubs "have made contact with Alonso's agent to sound out if he would be interested in joining them," claims the
Star
. The story speculates an offer of "£28m" will surpass Real's "second bid of £25m which Liverpool turned down a month ago." The story does not quote from either club or the usual 'insider' that is normally attributed to such stories.