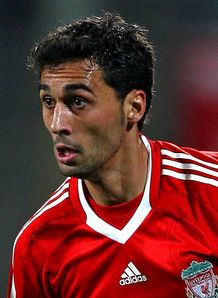 Liverpool full-back Alvaro Arbeloa claims he is close to finalising his move to Real Madrid reports
Sky Sports
.
Arbeloa has been linked with a move to Real throughout the summer but the Spain international believes talks over a move to Real are making positive progress with speculation suggesting a £4.5million deal. Arbeloa has made almost 100 appearances for Liverpool since joining the club from Deportivo La Coruna in January 2007. He signed for Deportivo from Real, after playing in the youth team for current Reds manager Rafa Benitez.
"At the moment I am focused on Liverpool, but it is true that the deal is close to being completed," he told Spanish sports newspaper
Marca
.
"We'll see what happens in the next few days, if we can all make an effort so the negotiations come to a good end, and we all come out having benefited, which is what everyone wants."
"I insist that everything is going forwards and everyone is in agreement - I am the one who has the most desire to sign for Madrid."
"I don't know what the likelihood is in percentages, it's a question more for the clubs. But, as I understand, it seems everything is going well and there is little left to resolve."
"It could all be sealed this week."