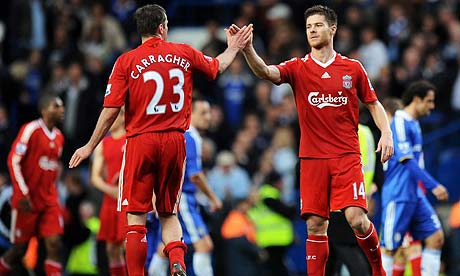 Liverpool's stand in Captain for the clubs Far East tour Jamie Carragher has called for an end to the speculation surrounding midfielder Xabi Alonso. Speaking following the Reds 1-1 draw against Thailand in Bangkok yesterday, the defender said:
"The feeling within the squad, he is a top player and you do not want to lose your top players and hopefully it can be sorted out as quickly as possible," reports
Sky Sports
.
"If the club thinks it is in the best interests of the club sometimes you have to do what is in the best interests of the club."
"But that's a personal matter for the manager and the club. We all go through these situations - well hopefully not me - and as I said, I just hope it gets sorted out sooner rather than later."
Meanwhile the
Mail
claims Real Madrid have raised their offer to £30million for the
Liverpool
midfielder.
"Sources in Spain say Liverpool have relented following the significantly improved bid," says the story.
"The Reds will hold out for a little bit more, but are said to be willing to negotiate."
"Alonso has made his feelings to known to Benitez and, meanwhile, Liverpool managing director Christian Purslow has been in talks with Madrid."
"The Spain star sat out Liverpool's friendly against Thailand on Wednesday but his representatives said there was nothing suspicious about his absence and that Alonso was suffering with a sprained ankle," states the article.
Alonso himself was non-committal at a public appearance in Bangkok, when asked if he would remain at Liverpool, Alonso replied: "It's difficult to give any guarantees. For now, I'm just enjoying myself in Thailand."