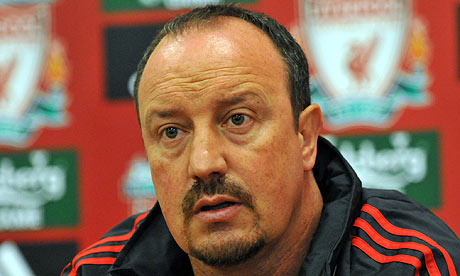 Manager Rafa Benitez has refused to be drawn on the Alonso saga. Speaking to the press Following a 10 hour flight from Vienna, the Reds boss was consistantly asked about Alonso's future:
"Xabi Alonso is here with us so he will be available," reports the
Guardian
. "One thing that you need to understand is the Spanish press. The future of Xabi Alonso is to enjoy here with the people of Thailand and the weather." The Spanish coach added "he can enjoy the games, the weather and the journalists."
"The next week he will be here."
When asked what he will talk to Alonso about, Benitez defiantly replied: "We'll talk about tactics and the game and try to enjoy our football."
Benitez gave little away when asked about further additions Rafa may make to the team and if he was interested in re-uniting David Villa with Fernando Tores:
"David Villa, he is not our target."
"We have already signed Johnson, an international for England. He is a good signing and Andriy Voronin is coming back, he was one of the best players in the German league, so we have two good additions. You never know in football."
But suggesting Glen Johnson wont be the only signing this summer, Benitez added:
"We still have some time and we need to keep working on other names," he said.
"We have fantastic players and hopefully we can keep the level of last year and see with one or two additions we could improve a little bit. At the moment we are very pleased."
"For us this is a really important stage of the season," he commented. "Everything we do during pre-season is about planning for the first game. We will continue to prepare the players well this week and look to play well in the games," reports the
official site
.
"It was disappointing to lose in Vienna because you always want to win games, but there were lots of positives to take from the game. Hopefully we can keep working well, and keep working hard, over here."