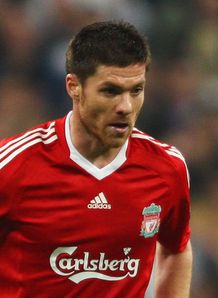 Transfer Speculation
Today's
Daily Mail
is running a rather worrying news story. It declares: "Xabi Alonso has agreed a £22million move to Real Madrid according to reports in Spain" Spanish newspaper 'Sport' is claiming Alonso will be the first 'Galactico' of Florentino Perez's second stint as Bernabeu president. Perez who could take control as early as tomorrow has reportedly already reached an agreement for the Spain midfielder. The paper says the Anfield star has agreed to a deal in principle weeks ago and that Liverpool accepted an offer on Friday.
The article claims that "there remains a few variables to sort out. Former Manchester United defender Gabriel Heinze could go the other way in part-exchange" It also says: "Benitez is also said to be keen on striker Alvaro Negredo. Madrid sold the 23-year-old to Ameria but have a buy-back option and Liverpool are said to have wanted him as part of the Alonso deal. However the £13m price-tag quoted is too much for Liverpool as they would prefer the cash to target Aston Villa midfielder Gareth Barry.
Let's hope this is just another example of Perez and the Spanish media trying to cause mischief. I truly believe Liverpool will miss Alonso should he depart, as the influential midfielder has been one of the main reasons for Liverpool's great season. He has been the main avenue of attack, routing balls from the middle of the park into dangerous areas via his incredible passing skill.
I can't see Heinze at 29 being more then a back up defender, despite Rafa's previous interest in him. Negrado has had a decent season, scoring 19 times and Real Madrid apparently have first option on him until the end of June. As previously reported on LFC Alert
here
a few weeks back, Negrado who is nicknamed 'the wild animal', played for Real Madrid's second team, before he joined Almeria. However they have reportedly inserted a buy-back clause of £4.4million.
Meanwhile the
Daily Star
is reporting fellow countryman Cesc Fabregas wants Alonso at Arsenal: "We need someone in the middle to make competition and make a difference, plus give us a new dimension. Xabi would be great. He's experienced and can score goals. I'm sure the boss is aware of that fact."