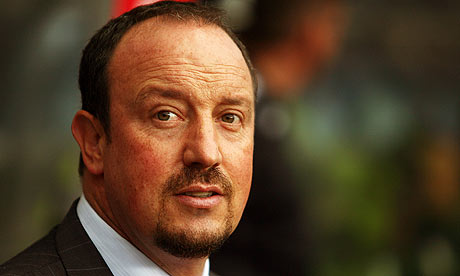 T
oday's
Telegraph
claims Liverpool manager may face sanctions from the FA following his press conference comments after the defeat to
Tottenham
.
"The FA have requisitioned "all available materials" to establish exactly what
Benítez
said and yesterday wrote to the Spaniard asking him to explain his comments.
Benítez
could receive a warning or a fine, if it is decided he has transgressed new directives established before the start of the season forbidding managers from questioning a referee's neutrality and integrity," says the article.
The Reds boss, when asked about referee Phil
Dowds
performance by the waiting press "
Benítez
remained silent, but took out his glasses and peered from a distance through the lenses, making it abundantly clear that he felt the
Staffordshire
official needed a visual aid," said the
Telegraph
on Monday. The Liverpool manager added: "We had a meeting the other day, they said we cannot speak about the referees as a person, about the decisions, but everybody could see today the situation."
New rules imposed by the FA, intend to stop managers speaking out against individual officials. Incredibly the waiting press knew full well about the new sanctions imposed upon managers and clearly sensed that a reaction could be teased from
Benitez
. The Reds boss
unhappiness
with
Dowd
who refused to award a clear penalty and then sent assistant
Sammi
Lee off, was obvious.
Amazingly, Rafa
Benitez's
hand gestures and spectacle waving are reported as '
controversial
' incidents, yet other managers say what they please about other clubs, officials or players without stepping into the same hot water that faces
Benitez
every time he speaks to the press.