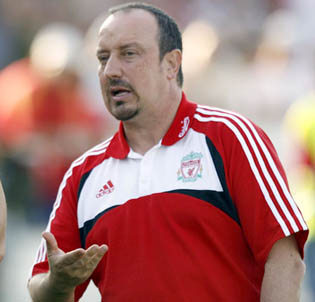 Liverpool manager Rafa Benitez has revealed that they are still on the lookout to strengthen the squad before the Premiership season gets underway. However his comments have been reported in the tabloid press as: 'cash strapped Rafa pleads the Americans for more transfer money!'
Speaking to the
Post
, Rafa said: "It is something I have to talk with the club about. We have some ideas and we have to discuss these ideas. We will see what will happen. We are talking about these things."
"We are working always. We try to be ready just in case (we can sign someone), but you never know. It depends on the prices.

"We know that with the Premier League and three other competitions it is really tough to manage and compete in. We are analysing the young players we have and we will see if we can improve and if we need something we will talk with the owners. We have to work with the players we have at this moment and keep working with the scouting department. The main thing for me is we have one week to work and prepare the players."

"We had some money but I will not talk about figures," said Benitez.
"On the record or off the record when you talk about figures I think it is clear. I will not say anything. I don't have the answer.

"We are working hard with the players we have and the money we have. Always it is difficult to compete in the Premier League with clubs who have more money."

Benitez is confident that at least two of his central defenders will be available come Sunday's Premier League opener at Tottenham Hotspur, with Skrtel, Agger and Carragher close to recovery

"I am 80% sure," said the manager. "The game against Atletico was very difficult for the young players. We conceded the first goal with 10 men and then they were playing against two strikers who are one of the best partnerships in Spain."

"If you have one or two senior players around them at Spurs, I think it could be different."