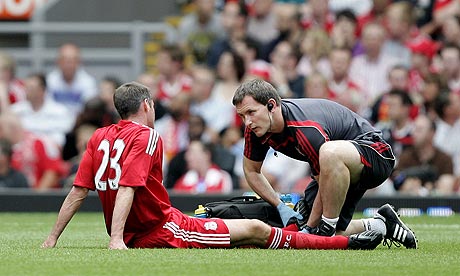 Most of today's papers are running with the story that Liverpool are in the middle of a defence crisis. It's true that Agger and Skrtel are recovering from injury and Jamie Carragher was taken off during the Atletico Madrid match on Saturday, however the Reds manager has played down the scare tactics from the press. Carragher he explains, was taken off as a precautionary measure and Skrtel and Agger are making quick recoveries. Incredibly most papers are quoting Rafa's comments below under the Rafa faces 'Injury Crisis' headline.
Benitez said: "Jamie's injury is not serious, just a twisted ankle. But with our injury problems which include Daniel Agger and Martin Skrtel, we felt we needed to take him off as a precaution, just in case," reports the
Telegraph
.
"We will keep an eye on him for two or three days to see how he reacts, but I feel he will be OK. Hopefully, Agger or Skrtel will be fit too."
"Agger has a back problem, and that should be OK in a couple of days. Skrtel is nearly over his hamstring injury, he's nearly there."
"He is training again and I believe that at the end of this week both of them will be fit to play."

Fernando Torres was also taken off as a precautionary measure on Saturday but Benitez believes it is not serious:
"I do not believe that the injury to Fernando Torres is anything serious, he had an ankle problem but it was a minor one and he also came off as a precaution."
The newspapers may interpret this quote as: Benitez injury HELL!!: 'Torres's legs fall off!'