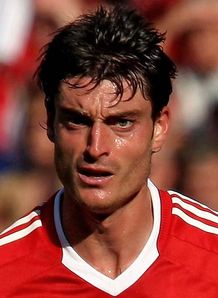 A
lbert Riera has admitted to having a flare up with Liverpool manager Rafael Benitez. The Spanish winger revealed the incident occurred when he didn't play in the Reds first game of the Premiership against Tottenham. Riera who had played in the Confederations Cup in the summer, joined up with the Reds squad late, along with the rest of the Spanish players and Benitez didn't think his fitness levels where up to scratch.
Speaking to the Spanish press ahead of today's world cup qualifier against Belgium, Riera said:
"I didn't play the first game because I started training late after the Confederations Cup, like Pepe Reina and Fernando Torres. I was angry and had a flare-up at Benitez, but the day I don't get angry for being a substitute I will retire," reports the
Echo
.
However despite the heated exchange Albert Riera insists he has nothing but admiration for Benitez, stating he is a 'special' manager.
"Benitez is a special coach who defends his own. I know he is with me, because he said so."