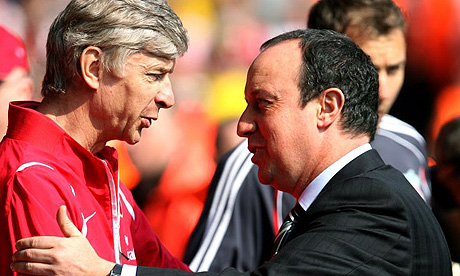 A
rsenal boss Arsene Wenger has defended Rafael Benitez following an avalanche of negative press that has been heaped on the Liverpool manager. The French coach has labeled the media attention 'excessive' and he has also stated that he feels sorry for Rafa, believing the Anfield boss does not deserve such negative media attention.
"It is always excessive," said
Wenger
today.
"We are, with a big club, in a job where you know that the moment the team goes through a difficult period, you get more stick than you should.
"But we know in our job as well that it is all part of it. I feel sorry that he gets that because he does not deserve it.
"But we all basically understand within this job, that it is part of the rules.
"In a big club, you need to be extremely strong because you get a lot of negative vibes.
"When you do not start well in the race for the Premier League, it's all negative around you.
"What is happening to Liverpool today happened to us last year. Every single question is negative for the whole season. You need to be extremely strong inside the club to deal with that."